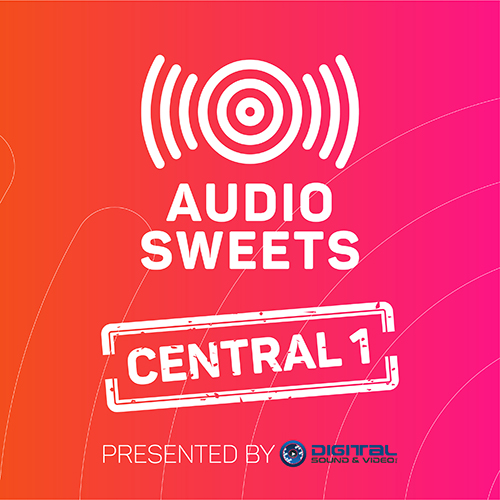 1st Jun 2019
AudioSweets Central 1 launch!
Daytona Beach-based Digital Sound & Video, Inc and UK-based AudioSweets Ltd announced a joint collaboration between the two companies today; a new radio imaging music production library titled "CENTRAL 1." Comprised of elements produced by AudioSweets, the library's offerings were handpicked by the producers at Digital Sound & Video to be among the best of the best.
The Package, priced at just $195 (USD), contains 390 cuts including categories such as Artist Drops, Attacks, Beats, Beds, Contest Elements, and News/Sports/Weather Elements.
World-renowned imaging pro, Dave Foxx, had this to say about CENTRAL 1:
"This is one library that will grab your listeners by the ears and shake them up. Everything punches through beautifully, adding impact and urgency when needed. Used well, it can act as a perfect counterpoint for any piece of production. At a price like this, you'd be crazy not to pick it up right away. If your GM won't spring for it, you should. Just make sure you take it with you to your next gig."
AudioSweets Marketing Director, Simon Prentice, adds: "We've been used to working with producers and stations all over the world but when Ed and the guys at DSV approached us with the idea of a 'best of the best' package offer, we thought it was a great idea! Our team of producers work for the biggest groups on either side of the Atlantic, so I'm sure stations everywhere will love Central 1!"
Digital Sound & Video President, Ed LaComb, remarked; "This first collaboration between DSV and our friends at AudioSweets was destined to happen. When we discovered the phenomenal collection that was in the AudioSweets repertoire, I immediately reached out to them with the idea to create an "ultimate" package…one where virtually EVERY cut is 100% killer stuff. Well, the guys at AudioSweets loved the idea and here we are with what we envision to be just the first in a series of affordable, high-quality imaging packages built for radio producers everywhere."
AudioSweets is a UK-based company that produces ID jingles, the Pick'N'Mix imaging library and the popular ASX buy out imaging albums. Their works are heard on the air in stations across the UK, Ireland, Europe, Australia, South America and Africa and their ASX albums have sold 1000s of copies all over the world.
Digital Sound & Video is a Daytona Beach, Florida-based Radio Imaging/Video Production company that specializes in creating world-class imaging production via cash or barter for radio stations globally. Now in it's 21st year, Digital Sound & Video continues to expand its growing client offerings with products designed to make the life of programmers and producers everywhere a lot easier.
CENTRAL 1 is available at AudioSweetsCentral.com for just $195.00 and is delivered via online download.